Specializing in Commercial Cleaning and Maintenance Service
Is the look of your facility sending the wrong message to potential clients? When you need help, look no further than Cady Building Maintenance! We specialize in commercial cleaning and maintenance services.

Decontamination Service
During times of a pandemic when your facility may have exposure to the virus, we are here to provide a higher level of decontamination service beyond your standard cleaning.
About Us
We Pride Ourselves on Providing the Best Commercial Cleaning Services.
The cleanliness of your facility affects customers' and employees' impression of your business. The Cady Building Maintenance team knows that having a clean property is a necessity in today's business climate, but you probably don't have a lot of time to think about it. But if you work with us, you won't have to.
We are family-owned and have been in business for 35+ years. We service all types of commercial facilities and specialize in outstanding customer service and prompt response to customer requests.
Featured Services
Commercial Services
Office Cleaning
We will keep your office looking spotless! We clean floors, carpet, windows, restrooms and more. We also help with move-in/move-out cleaning, construction clean-up and decontamination cleaning.
Building Maintenance
Maintaining a commercial building takes time and effort, but it's vital. Our team can handle air duct cleaning, dryer vent cleaning, HVAC cleaning, replacing air filters and making necessary repairs.

Consumable Supplies
We will keep your restrooms stocked with essential items like toilet paper, paper towels, hand soaps and trash liners. You won't need to worry about running out of these bathroom supplies.
And More Commercial Maintenance Solutions…
Learn about everything we can do for your commercial building or facility.
It's Important to Keep Your Place Clean.
Let Us Take Care of That.
We will handle the cleaning so you can concentrate on running your business.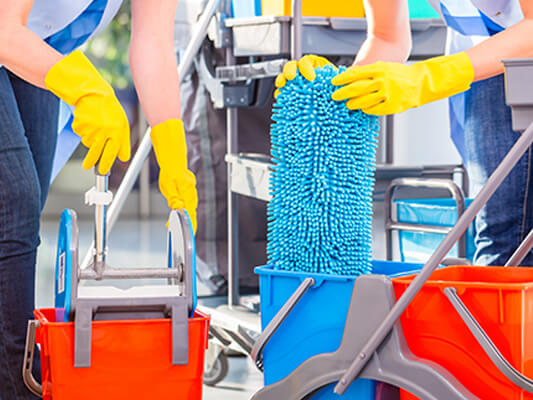 What We Do
We are Family-Owned and Have Been in Business for Over 35 Years.
Commercial Carpet Cleaning
Hardwood Floor Cleaning
Window Cleaning
Dusting
Air Duct Cleaning
Restroom Cleaning
Construction Clean Up
Move In/Out Cleaning
Decontamination Cleaning
Dryer Vents
Flood Response
Pressure Washing
Grounds Maintenance
Building Maintenance